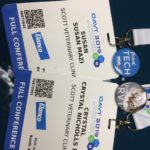 Our technicians, Sue and Crystal, recently attended a conference in Niagara Falls hosted by the Ontario Association of Veterinary Technicians. This particular conference is unique, as it is a series of lectures and labs for veterinary technicians, and the event is put on by veterinary technicians. There are guest speakers from all over North America talking about the latest in anesthesia, nursing, internal medication, radiographs and nutrition, among others. Technology is constantly changing as well, so this is also a great way for us to see what's new and gives us a "hands-on" chance to see how things work at the conference's trade show.
The doctors attended a few major conferences this past year, too. Dr. Lee went to the NAVC (North American Veterinary Conference) in January which gives lectures in small and large animal medicine. She also went to ExoticsCon in September which was all about birds, reptiles, and small mammals. Dr. Mantle and Dr. Lee both attended the OVMA (Ontario Veterinary Medical Association) conference in January that took place in Toronto.
Lifelong learning is crucial to keep us up to date with ever-evolving medicine. There is constantly new and emerging science-based knowledge and information in medicine and surgery that can help to improve your pet's health, life span, and of course, quality of life.