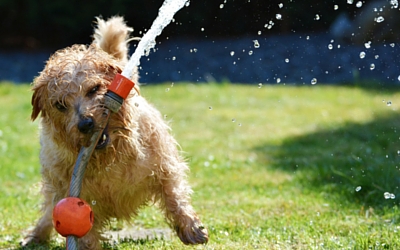 Summer is the best time of year.  Sunshine and blue skies usually mean more time spent outdoors.  It's very important to remember to protect our pets from the hazards of the season.  Dogs tend to be at a greater risk of heat stroke and dehydration simply by their nature: we take them with us everywhere; for walks, playtime in the park and of course for car rides. Having said that, all pets are at risk for heat related injury.
First and foremost never leave your pet unattended in a car, even if it's for 5 minutes. The inside of a car can heat up rapidly, even with the windows down or the air conditioning on. If you can't take him with you when you stop the car, leave him home.  If you discover a pet left unattended in a hot vehicle, call 310-SPCA (7722) in Ontario, your local SPCA or Humane Society, or your local police department.
Increased exercise outside can lead to heat stroke and dehydration. Be sure to provide lots of water, and frequent breaks in the shade.  Walk with caution: pavement can be scorching hot and can be a burn hazard.  It's best to walk your dog in the early morning or late evening.
Our "In The News" section has some well-timed articles on hot weather safety.  It's a great guide for a great summer.
Keep cool and keep safe!
Photo courtesy of Lifelearn.