Finally the weather is warming up. After what seemed like an eternity of rain we have sunshine and blue skies.
This is the time of year to remember that we need to take special care of our four-legged friends when it's hot outside.
Leaving your pet in a hot car, even for a few minutes, can be life threatening. Researchers have studied how long it takes for a car to heat up on a hot day. The findings were alarming: in less than an hour the inside temperature of a car parked in the sun on a day that reached 35 degrees C or hotter, hit an average of 47 degrees C!
Cars parked in the shade on a hot day had lower – but still scorching – temperatures. After 1 hour, the interior temperature of these cars reached an average of 38 degrees C.
The dashboards of these cars averaged 48 degrees C, the steering wheel averaged 42 degrees C, and the seats averaged 41 degrees C. It is never safe to leave a pet unattended in a parked car, even with the windows rolled down.
If you see a pet left in a car you can call 310-SPCA (7722), your local SPCA or Humane Society, or your local police.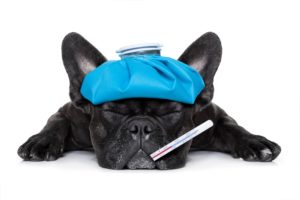 Another thing that we need to be careful of is the temperature of asphalt. Unless you're walking around barefoot it's easy to forget just how hot the pavement can be. Use the "5 second rule" to determine if it's cool enough for your pet's feet. Place the back of your hand on the pavement where you want to walk your dog. If it's too hot to leave it there for 5 seconds it's too hot for the pads of your dog's feet. Serious burns can occur.
Stay safe and have a great summer!