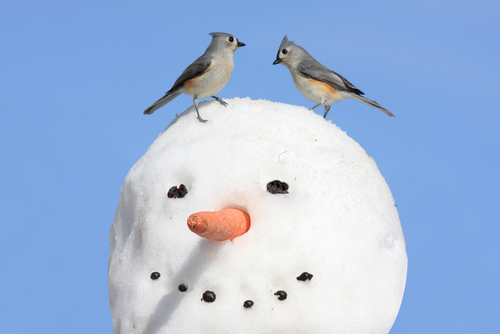 Beautiful crisp fall days seem to be behind us now and nasty winter days are coming up fast. We have some cold weather tips to help your pets enjoy the winter season a bit more!
1/ Salty toes : Some salt used on streets and sidewalks is very dangerous for your dogs, and cats as
well. Boots are an option, however most pets are not pleased to be wearing them. Giving those toes a little wipe with a dry towel each time they come in from the outdoors will keep their feet in good shape all winter long. This will also give you a quick look at their paws to catch any cuts or scrapes they may get from stepping on a sharp piece of ice. You can look for pet friendly de-icing products wherever you buy salt for your own property.
2/ Freezing temperatures: If it is too cold outside for you to stay out, it is too cold for your pet to stay out for extended periods of time, unless they are a breed adapted to cold climates or have a warm winter coat and accessories. Please bring your pets inside and provide them with a bed to sleep on. Pets should have a bed that is up off of the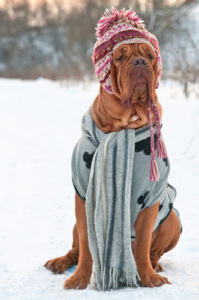 floor supports them and is away from drafts. An appropriate bed will benefit your pet for years to come and also make them comfy and happy.
3/ Reduce bathing: In the dry winter months you should reduce the amount of times you bathe your dog by half. This is to reduce the effects of dry skin. You may also want to find a moisturizing shampoo that reduces dry skin irritation.
4/ Adjust calories: This adjustment can be up or down depending on your pet's activity level in the winter months. If your pet loves snow and spends a lot of time playing and running outside he may need more calories. If your pet spends the winter lounging in front of the fire they will most certainly need less calories. Remember it takes more calories to keep warm than it does to cool down.
5/ Snowstorms: Did you know a dog can lose his scent trail and sense of direction in a snowstorm? This is a good reason to keep them on a leash if you are walking in a blizzard.
6/ Antifreeze: Antifreeze is extremely toxic to pets and has a sweet taste so they are attracted to drinking it. Please be cautious with its use and never let pets drink from puddles, they may contain antifreeze.
7/ Christmas: At Christmas time we see the most cases of diarrhea cause by too many treats! Christmas in itself is an entire safety concern for your pet! There are dangers lurking everywhere, including, turkey, chocolate, treats, alcohol, tinsel, electric cords and lights! Please keep your pet in mind when you place these items for the season or for the day. Can your pet access it? If so move it! It will make everyone's holiday much jollier!
8/ Emergencies: Did you know that if you have an emergency or a sick pet after hours, that veterinary care is always available? Our patients can be seen at Brant Norfolk Veterinary Clinic located at 155 Lynden road. 519- 720-0753 They have a veterinarian and support staff available overnight, Saturdays and Sundays and holidays. Basically any time that we are closed they are open and prepared to see your pet and they will also notify us of your visit and send us a complete report.