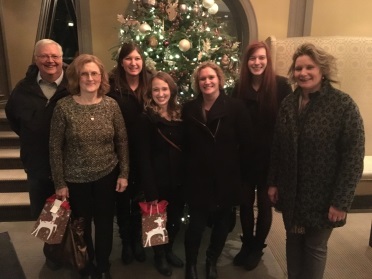 Happy Holidays! 
The Staff at Scott Veterinary clinic would like to extend our warmest wishes for a Merry Christmas and a happy New Year.
We would also like to take this opportunity to thank you for your continued support over the past year.
You may have noticed that we have been busy with renovations in the last year and are excited to get them finished so that we can show off our new digs!  Last winter, we completed a new laboratory and kennel area; designed separate cat, dog, and exotic wards to minimize their stress while staying with us.  We also installed a new radiology suite offering digital radiographs.
You may have noticed the facelift that the exam rooms received last winter.  They were in need of a little TLC and we are very happy with the result.  They are in need of some artwork, and we are looking for volunteers to bring pet photos in for the walls. If you have a particularly nice photo and want your pet to be "famous", then bring them in!  We will be blowing up the pictures and putting them in 12*12 frames for all to see.
The next step in our plans is to add a state of the art dental suite complete with dental imaging in the upcoming year. This is expected to begin in December (now) in the former treatment area, and will enable us to better diagnose and treat dental infections and pain in your pet's mouths.  As this will be a learning curve for us, we plan to offer free dental radiographs to all pets that will be coming in for elective surgery in the upcoming year so that we can become comfortable with taking and interpreting these x-rays.  It will be an added bonus for anyone requiring elective surgery.  We have become fond of our new work space and are looking forward to scheduling an open house to show everything off!  If you would like a tour before then, feel free to drop in and ask to see what we have been up to!
We hope that you are all enjoying the gardening and outdoor improvements; we are happy to hear that you notice them and really enjoy your compliments.
As many of you know, all were greatly saddened by the passing of our beloved Parker. He crossed the Rainbow Bridge in June of this year after his long battle with kidney failure. We miss him dearly but enjoy our sweet girls Spookie and Zeta! The girls have new digs too, they have a brand new kennel system all to themselves it looks a bit like a Habitrail but for cats!
We are very excited to welcome a new groomer and full time receptionist to our team after an exhausting search.  Our new groomer Katelyn has been doing an awesome job grooming and the pets really like her, as well. Danielle, our new receptionist is a local girl with an education in Veterinary Office admin and animal care.  She may not know all of you by name just yet, but she is very eager to be helpful and is ready for your phone calls! Please give her a big welcome when you see her next!
Dr. Lee (Shannon) has been very busy this year with her twins. Aubrey and Colton turned 2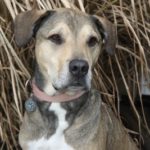 this fall and are into everything!  Brooklyn continues to progress with her mobility; she is now in grade 2, and with all of her supportive therapy her parents were excited to witness her first steps this year!  The Lee family bid farewell to their dog and companion Hennesee this summer after a short battle with lymphoma. He is dearly missed but his picture hangs in the clinic as a daily reminder of just how special our pets are to each and every one of us.
Many of you were surprised to see Dr Stephenson back in action this year! We were so thankful that he was willing to come out of retirement to help us out during Dr. Mantle's extended leave. It was great to see him again and catch up on how everyone is doing.  Dr. Stephenson has hung up his stethoscope once again and has been spending some much deserved time with his family and travelling.
Dr. Mantle has returned from her leave of absence, and has fit right back in where she left off. She still maintains her vast array of critters at home, from Victoria the neurotic horse to a multitude of handicapped felines down to the collection of cast off chickens that pillage her garden on a daily basis. Not to mention the numerous woodland creatures that considers her farm and back door their home! She loves and cares for them all.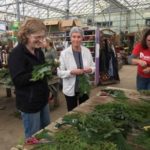 Crystal's  2 cats and her dog Tanner are eagerly awaiting Christmas, they think that they have been especially good this year.  She and her husband have also been house hunting this year for their forever home. Good luck Crystal and Dave!
Sue has been up to her usual work behind the scenes, setting up all our new equipment and then teaching the rest of us how to use it. Sue also lost a family member this year. She and her husband Ed lost their sweet cat Cameo after a long battle with kidney failure. She and Ed continue to maintain their beautiful gardens at home and like to spend time in the summer camping and fishing. They also get their hands dirty for the Dunnville Horticultural Society, spending many hours volunteering for them.
We would all like to extend a huge congratulation to Kelly. Some of you may know that Kelly quit smoking last year, and on December the 8th it will be one year. Way to go Kelly! Kelly and her husband Kelly are also outdoors people and spent some time this summer at a cottage and fishing with their pooch Piper! They too were also saddened by a loss this year; their kitty Jo was also claimed by kidney failure. They are happy to have "The Boys" at home- Alejandro and Julian, their Siamese cats.
Many you have met our part time staff members; Sam (who is back at school to become an RVT), Alyssa (who works full time at the hospital doing physiotherapy), and Hanna (our kennel student).  This year, Lauren said goodbye as she embarks on her new career as a lab technician and Amanda decided to hang up her hat after 25 years with us, to spend more time at home with her family.  Our groomer Tiffany, moved on to take a full time position elsewhere.  We wish everyone the best of luck in their future endeavours.
In close we would like to wish good health to you and your pets and all the best for the upcoming year. We hope that you will continue to choose Scott Veterinary Clinic for your pets' healthcare and we will be seeing all of you soon.