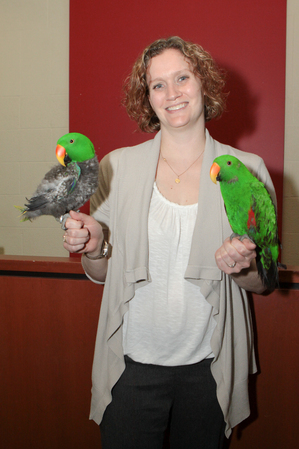 Dr. Lee is the current owner of Scott Veterinary Clinic. She is excited to have joined the team here at Scott Veterinary Clinic in 2014 and looks forward to meeting all of our wonderful patients and their families.
Dr. Lee graduated from the Ontario Veterinary College in 2004 and subsequently decided to pursue additional training in working with exotic animals-her passion. She completed a 1 year internship in avian and exotic medicine and surgery at the Ontario Veterinary College before moving onto general practice. You may have met Dr. Lee at any number of veterinary clinics in the Hamilton/Brantford area as she spent several years working as a relief veterinarian. Although she will miss the clients at those clinics; she looks forward to developing long term, meaningful relationships with our clients here at Scott Veterinary Clinic.
While not at work, Dr.Lee and her husband Matt, keep busy running after their 5 year old daughter Brooklyn and their 5 month old twins; Aubrey and Colten. Their fur babies consist of a bouncy boxer cross named Hennessee, a cat named Nigel, and a turtle named Franklin. In their spare time, Dr. Lee and her family enjoy gardening and camping.
Dr. Lee looks forward to meeting you and your family!