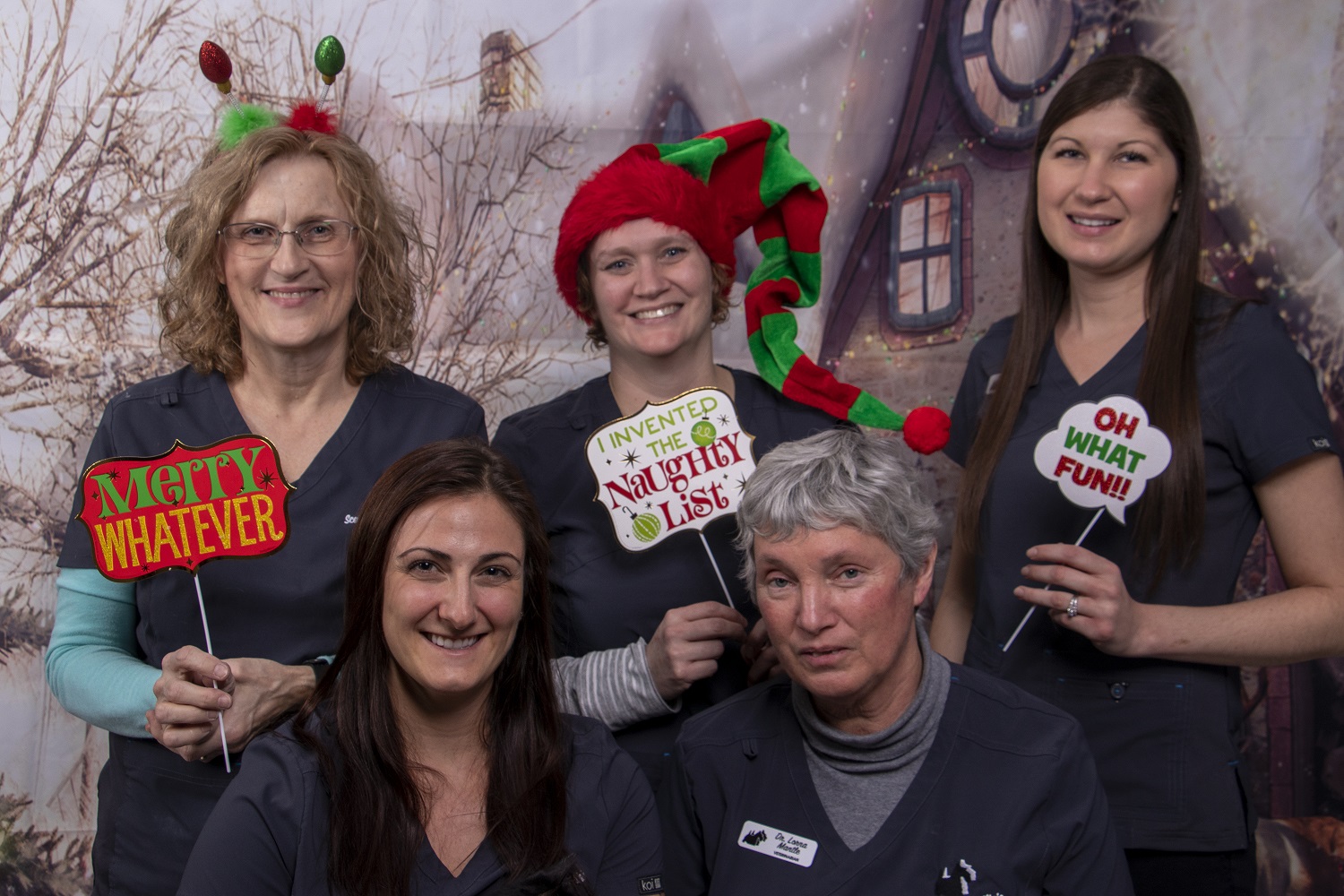 Warmest wishes to all from your friends at Scott Veterinary Clinic!
Two thousand and nineteen has been another busy year here at Scott Veterinary Clinic. We have all been very busy working to make your visits a better experience for you and your pets. Your comfort and happiness are our priority, and we strive to exceed your expectations at every visit.
Many of you have noticed our new signs and commented on how much you like them. Thank you. We like them too, and can't wait to get them lit up!
We have also made significant improvements to our surgical monitoring equipment and diagnostic equipment. This will make your pets procedures safer and more comfortable. Construction is about to begin in the Dog Ward. We are having new indoor dog runs installed. Our outdoor runs are great for the summer months but this will give our boarders extra space for the cooler winter months.
We have added some new faces to our staff recently. Have you met our newest receptionist Kali? Kali recently graduated from the Veterinary Assistant program at Seneca College. She is very helpful and friendly, a lovely addition to our team. We are so happy to have Kali!
You may also have seen our student Beatrice joining in on appointments and helping out around the clinic. Beatrice is a McMaster student currently and hopes to attend the Ontario Veterinary College in September of 2020. Beatrice is here getting some clinical experience, we think she is going to make a great doctor!
We also welcomed back Dr. Forbes this year. She has returned to work after recovering from surgery to repair her fractured ankle. We missed Dr. Forbes and are happy she has returned.
Our wonderful receptionist Laura and her husband Ryan have welcomed their new son Conor to their family. Conor was born on August 31, the day after Laura left for her maternity leave. Conor is a very sweet little boy. Congratulations Laura and Ryan!
We are very sad to announce that one face is missing from our clinic family. Our Spookie has crossed the Rainbow Bridge. Spookie had been battling inflammatory bowel disease for several years. We could no longer support her enough to keep her happy and comfortable. Spookie will be sadly missed.
Zeta misses Spookie too but she is still up to her usual monkey business of breaking and entering other kennels to steal food, smashing the treat jar on the floor, hoping it will open and just being a general nuisance. What would we do without her?
A very special dog named Scarlet came into our lives in 2019 as well. Scarlet lived with a young family that loved her. Scarlet had contracted heartworm disease and was also struck by a vehicle. Her family chose to surrender her to the SPCA so that she could be attended to properly. Dr. Lee chose to donate all of Scarlet's treatments, surgeries, medications and care. She has spent the past 6 months with us in recovery and rehabilitation. Scarlet has just recently found her new forever home. We wish her and her new family the best of luck!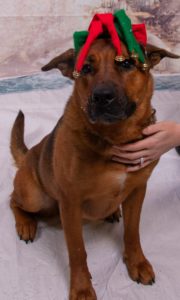 It has also been a busy year working with our friend Chantal at Hobbitstee Wildlife Refuge. We are so happy to help with all of her special cases. To name a few, this year we helped a fox kit with a broken jaw. She made a full recovery and was successfully released. There were many birds with multiple wing and other injuries. We saw owls, swans, loons, eagles, hawks, sea gulls, and geese. Through surgical repair, splints and bandages, a great number of them were rehabilitated and released. We also helped some snakes, opossums, turtles, coyotes, and fawns along the way and were glad to do so. Every little life matters and is important to us.
A t this time we want to take a moment to let you know that we cherish each and every one of you and we are so glad that you have chosen us to be such an important part of your pet's life.
We hope that this Christmas season brings with it everything you are wishing for. We wish you time with your family and friends, a nice dinner, (maybe two), some pretty lights or a lovely tree, whatever your wish may be. Last but not least; love and celebrate your pets every day. The human animal bond is a powerful force that you are so fortunate to have found.
[ngg src="galleries" display="basic_thumbnail" thumbnail_crop="0″]

Happy Holidays from everyone at Scott Veterinary Clinic!