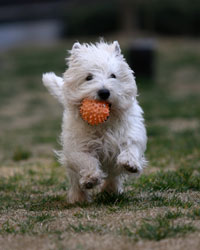 It's that time of year again when mosquitoes, fleas and ticks reappear. Not only are they a nuisance but they carry diseases that can be deadly to our pets.
Heartworm testing is now underway.  Each year we draw a blood sample to verify that your dog is negative for heartworm.  If so, a course of prevention is given over the summer months while mosquitoes are active.  Many of these products have flea and tick protection included.  Some products are oral, and some are topical. There is a wide range of options to suit everyone.
We run the blood tests in clinic using Idexx's Snap 4DXPlus tests which identify not only heartworm disease, but 5 tick borne diseases: Lyme disease, two types of Anaplasma and two types of Ehrlichia. These tick borne diseases can cause a variety of clinical signs including fever, arthritis, kidney failure, anemia and bleeding disorders. The scary thing about these is that they are zoonotic which means they can also cause disease in humans. The good news is we can run the test during the appointment so you will have the results before you go home.
With the rising number of ticks in our area, we thought this was a great value added test for you!